Wait! Don't throw out old metal patio furniture. For a fraction of the cost, you can repair your old set — saving time, money and preserving precious memories.
Many people have patio furniture that they love. Over time, that beloved metal set fatigues from exposure to weather and may break in some places or rust. Repairing your set is a cost-effective way to keep your set for many more back-yard gatherings to come.
Welding those troubled spots can offer long-term repair. Here's an example of a chair that needed repair because it is irreplaceable. It a family heirloom passed from mother to son and it means a lot to the family to keep it in working condition.
1. Getting Started: The chair came in two pieces. Other than the break, this chair is in great shape.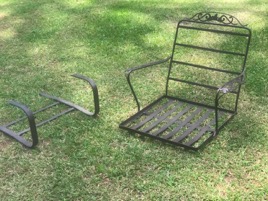 ---
2. Align and clean:  Rails are set up in their proper locations, clean the weld area down to clean metal (make sure all rust is removed) and weld them in place.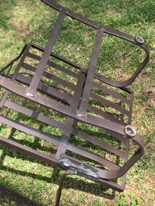 ---
3. Start welding: After welding up the bottom of the rails, welds are added to the top-side of the rails to add strength, this will add more durability than the factory weld.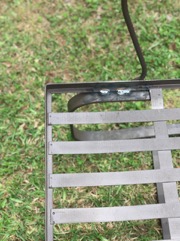 ---
4. Finished repair: Once all the welds are made, the chair is now solid, repaired and ready for touch-up paint. This chair was repaired for less than $100, and the family can continue to enjoy the entire patio set. Perhaps, it will be passed along to the next generation.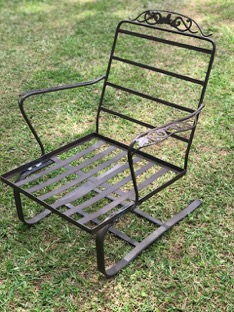 Please follow and like us: